2007 was one of the best years of my life. Of course, with it being two-thousand and
seven
, how could it be any better?
Actually, the numerical year had nothing to do with it. What made 2007 great was mostly due to our move to the country at the end of 2006, which gave us a whole new world to explore in 2007. In 2007 I didn't work full-time. I was home more than I was not home. That was a blessing. In 2007 my boys did well in school. They've made new friends and tell me often how glad they are that we moved here. Another blessing. In 2007 I began my adventure in gardening. And I was overwhelmed by blessings in that department. In 2007 God provided for us beyond anything we could hope for. In 2007 God was (and continues to be) faithful and true to His promises. Yes, we were blessed in 2007.
I don't usually set new years resolutions. But I do consider the year past and commit the new year to the Lord and seek His guidance and direction. And that is what I'm doing today as I pour out my thankfulness to Him for every person, every adventure, every blessing, every trial and every experience He will bring into my life in 2008.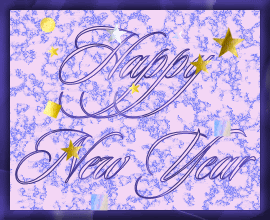 Myspace
Graphics- At Myspacejunks.com